Giving a form to natural sound / 2014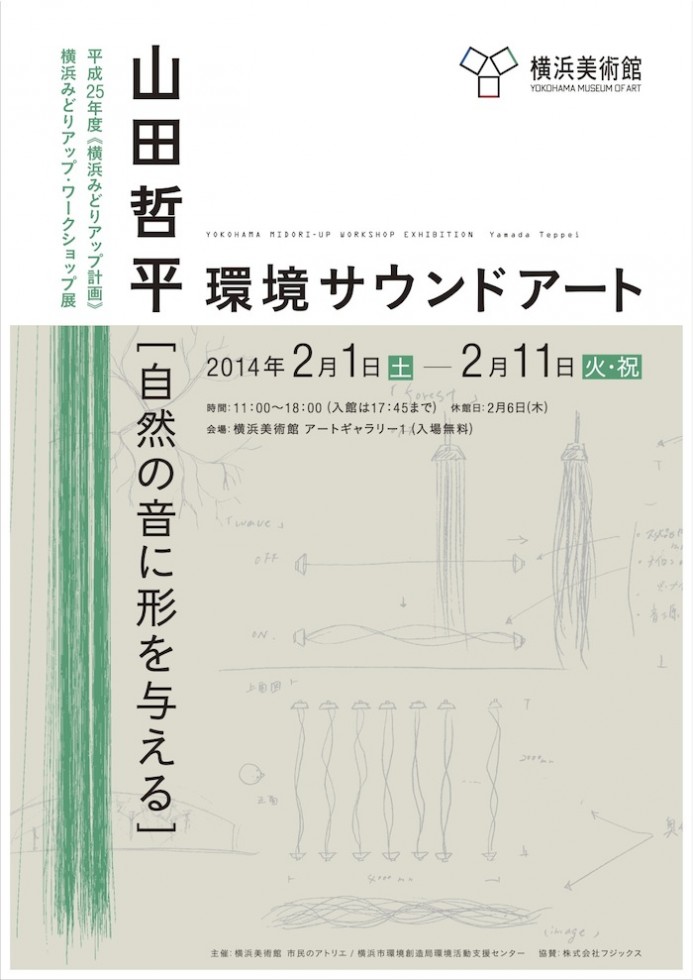 Sound of nature(wind,wave,bird call,singing of insects,etc) speaker unit,silk thread, amplifier, mp3player,bamboo
H280 x W350 x D850 cm
Yokohama Museum Of Art Gallary1,1 February - 11 February
Listening to the sounds of a forest.
Birdcalls, the rustle of leaves in the wind, the sound of water flowing in a brook.
In autumn we hear the crickets chirping, and the sounds of walking on fallen leaves.
If we listen carefully to the sounds of nature, we discover sounds that we have never noticed before. I collected sounds of all sorts and tried creating a forest out of the sounds of nature alone. I make those sounds of nature flow from a unit in which I have attached threads to speakers. The sounds travel along the threads, which begin to move like the forest itself.We can see and touch the invisible sounds of nature. A forest that we had failed to notice appears.
森の中で音を聴く
鳥の鳴き声や風に揺れる葉の音 小川の流れる水の音
秋になればコオロギや鈴虫の鳴き声 落ち葉を踏みしめる音
自然の中で音だけに集中してみると今まで気づかなかった音が耳に入ってくる
色々な音を集めて自然の音だけで森を作ってみる
自然の音をスピーカーに糸を付けたユニットから流す
音が糸に伝わり 森の様に動き始める
見えない自然の音を 見て 触る
気づかなかった森がそこに現れる
---